I came into Hapkido after 8 years as a Lindy Hopper, and so my perspective on the martial art was through jazz-colored glasses.  It's that thing we all do sometimes.  Comparing something unfamiliar to something familiar, and finding a meaningful lesson from what is the same and what is different.  What principles of Lindy Hop will help me in Hapkido?  And equally important – what doesn't?
A Quick Review
What is Lindy Hop? It's a dance that originated in the 1930s and found maturity in the 1940s in dance halls like the Savoy Ballroom in Harlem in New York.  It's danced to swing and jazz music.  There are both partnered and solo forms of the dance, but mostly I'll be talking about the partnered form.  Its foundations are heavy on rhythm (footwork is everything), and combines led and followed improvized moves as well as some classic and community-shared bits of choreography.  The spirit of Lindy Hop is one of joy and creating something new within the style.  There are no explicit standards – it's about what works and what speaks to the music and the community.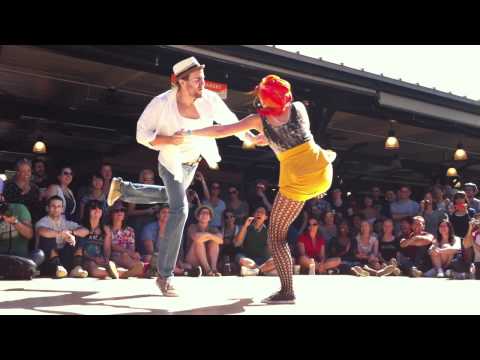 What is Hapkido? It's a Korean martial art that originated in the 1950s as a primarily self-defensive martial art.  It has roots in Aiki-juijitsu, and has some resemblance to Aikido.  Hapkido utilizes joint locks, throws, pressure points, and grappling.  The three principles of Hapkido are Circular Motion, Non-Resistance, and the Water Principle – the general idea is to redirect and counter attack until the attacker is completely controlled.  The Hapkido-ist can control the amount of pain or injury they inflict, and indeed can be gentle.
Leading & Following
Just as does Lindy Hop, Hapkido has a lead and follow.  In the practice of Hapkido as an art and during training, one partner 'attacks' and then the other counters with Hapkido.  That first attacker has become the faller – the follow.  The one who has been attacked and then does Hapkido becomes the lead.  The faller/follow may not know what will happen and must move honestly in a connected, relaxed way in order to fall safely.  The thrower/lead is executing perhaps a serious of joint locks and throws and must perform them in an effective complete way, taking the balance from the follower and sending it.  And in practice, the thrower must take care not to actually injure their attacker.  There must be a connection and harmony between faller and thrower to complete the technique effectively and safely.
There is added complexity to this relationship: the choices of the attacker/faller/follow should inform what technique the thrower/leader chooses.  Grabbing or pushing should illicit a much different response then kicking or punching or swinging a chair.  The counterattack response must harmoniously follow from the type of energy the attacker brings to the moment.
Falling & Following.
I found that my experience as a follow in Lindy was extremely relevant and useful when falling in Hapkido!  I understood the fluid role of recognizing patterns, anticipation and follow-through, and I understood how to connect to my joints, how I should move when my arm was pulled one way or another.  I understood already that to allow my arm to go too far behind  my torso was dangerous, and that I should try to continue movement when possible.  I knew from Lindy Hop what it meant to step and commit your weight, how to find my center of gravity and use it to keep my balance. I already understood how to match energy and power, how to respond in kind for maximum balance.  My Lindy Hop very much defined how I fell in Hapkido, and I'm very happy to say that I get immense amounts of enjoyment falling, as many Hapkido practioners do.   It is not a passive activity.
It seems strange perhaps, that enduring a martial arts counter-attack would be fun, but it really really is.  In many situations you find yourself flying through the air, and the training in how to fall correctly means that the landing is not so bad.  I actually find it invigorating most of the time.  In the practice of Hapkido, especially in training, we are not out to hurt each other.  I know how to fall safely, and I trust my partner to take care of me, even as she is controlling where my body goes.  I am complicit in the completion of the conjoined movement.
Throwing & Leading.
When I began Hapkido, I had not been leading Lindy Hop very seriously for very long. I remember when I was first learning to lead Lindy Hop how strange it was – how completely my stance had to change so that I became more stable and rooted – a source of consistency.  I also learned about a different kind of follow-through – completing movements, connecting movements.  But I had not completely internalized nor physically understood how to do that in Lindy Hop.
In Hapkido, one does not choose a permanent role, so I was throwing as much as I was falling – we always switch off, no matter your rank or gender.*  When doing a Hapkido movement/technique, you must be stable and take steps that are beneath your body.  You generate – no, you absolutely must generate your strength and movement from your core.  I am not a mighty person; my body is not and will not be stronger than 75% of my partners.  And so I must draw upon the energy and strength that comes from my torso, and when I can do that in the right way, I can effect control over an attacker of any size or strength.  This is the foundation of Hapkido.
And holy crap, did that help my leading in Lindy Hop!  The effect was intense.  After training in Hapkido for a year, my Lindy Hop leading became so much more effective.  I found much more success leading people of all sizes at any tempo.  When before I would get tired, or find myself unable to move my partner, now I knew how to harness my own power in an effective but gentle and efficient way.  And then consider that a Hapkido attacker, while complicit, is not always actively cooperating the way a Lindy Hop follower is.   If I can dominate an unwilling attacker, then surely I can lead a completely cooperative follow!
It was truly eye-opening and confidence-building.  I knew how to use my body, how to ground myself, how to continue movement, how to create strength and control from my core, I was never intimidated by my own size again, nor was I ever swayed by those who might say a woman can't lead as powerfully as confidently as a man because of her strength or size.
* There are a few exceptions to this rule, at least in the Hapkido schools and camps I have attended.  One example is when someone is teaching a move – he/she will repeat it many times with different volunteers falling over and over.  Another exception is when we test for a rank promotion – the one who is testing throws time after time, and only occasionally falls when the judges call for it.  But 90% of the time, we do both roles because both are immensely important to a complete understanding of Hapkido.
And Onward
The priorities and circumstances in my life right now mean that I have nearly daily access to great Hapkido training and many esteemed instructors.   I train two or three times a week.  However, there is very little Lindy Hop to be had.  I am very happy with my choice to move back here, to support my husband's graduate studies, to feel settled in this part of the country for a few years.  But I do miss Lindy Hop like crazy.
My expression of Hapkido is a very helpful surrogate for the physicality and connection that so fascinated me about Lindy Hop, and there is room in a martial art for creative expression and you can bet I'm all over exploring that.  And Hapkido is certainly very fulfilling in its own right.
It's a strange connection to make – dancing and martial arts.  The cultures are so different, the balance of work and play are different, and navigating expectations as a woman in the martial arts is not easy.  The hierarchy  the socializing, the tone of events, the implications of what we're learning.
But the connection, as I hope I've sufficiently described, is meaningful.  It's there.  There's something to this.